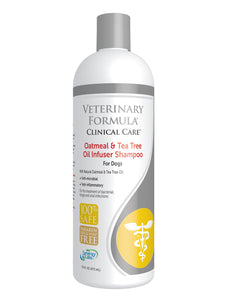 Veterinary Formula Clinical Care Oatmeal & Tea Tree Oil Shampoo provides gentle cleansing, and effective anti-bacterial healing with natural tree tea oil and colloidal oatmeal. Colloidal Oatmeal, a premium natural moisturizer, provides soothing relief to dry, flaky or itchy and irritated skin. Medicinal Tea Tree Oil (natural Melaleuca Alternafolia) is proven effective against bacterial and fungal infections. Helps calm the sting and itch of insect bites. Contains no artificial fragrances or harsh chemicals. Paraben free and pH balanced. Only for dogs. Not safe for cats due to its tea tree oil content.
KEY BENEFITS
Colloidal Oatmeal: Mild, natural moisturizer to treat or prevent dry, itchy, scaly, rough skin and minor skin irritations. Softens and moisturizes skin while decreasing itching and flaking.
Tea Tree Oil: Derived from the leaves of the tea tree. This medicinal oil is known to treat topical skin infections such as: fungal, lice, ringworm, and other dermatological issues. It's antimicrobial and antifungal properties make it a popular ingredient used in many natural cosmetic properties. Tea tree oil has a very distinct smell, like turpentine.
Paraben-Free: Parabens have been found to mimic estrogen in the body- and when levels are disrupted, a link has developed with breast cancer & reproductive issues. All our formulas are Paraben-Free, to promote the safety, well-being and health of your pet.
Spot–on-Safe: Will not remove topical spot-on flea & tick treatments.    

MORE INFORMATION

Shampoo treats bacterial, fungal and viral infections. Common causes are fungus, bacteria, insect bites, and allergies to fleas and food.

Symptoms include: redness, lesions, discharge from lesions, darker patches of skin, itchiness, loss of hair, and greasy or scaly skin.

Helps calm the sting and itch of insect bites. Soothes and relieves itching and hot spots.

Reduces inflammation and restores skins moisture.

Will not wash away flea and tick treatment.

DIRECTIONS

Wet coat thoroughly. Apply shampoo and work into a thick lather, massaging gently through coat to saturate skin. Allow to remain on coat for several minutes. Rinse well. Repeat if necessary. Safe for weekly use.

INGREDIENTS

Purified Water, Coconut Oil Based Cleansers, Acrylates Copolymer, Tea Tree Oil, DMDM-Hydantoin, Eureplan© PK 4000, Colloidal Oatmeal, Tetrasodium EDTA.