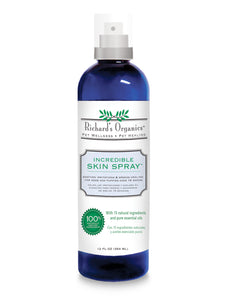 Richard's Organics  Incredible Skin Spray provides fast relief from hot spots, bites, sunburn, rashes, eczema, dry skin, ringworm and minor wounds.  Safe for dogs and humans (not safe for cats), this unique formula uses a blend of 15 plant extracts that quickly provide anti-viral, anti-inflammatory and anti-bacterial action. Not to be used on cats.
KEY BENEFITS
Clove Oil: This natural insecticide is also known to provide anti-microbial & anti-fungal properties. When applied topically, it may alleviate pain and inflammation.
Echinacea: Widely used to fight infections such as the common cold. Also helps to treat skin wounds, eczema, psoriasis, insect bites, and other irritations. Helpful for healing and repairing skin.
Colloidal Oatmeal: Sooths and protects dry, or itchy, inflamed skin. Leaves a protective film on the skin that retards water loss and helps to repair and maintain the epidermal barrier. Saponins in oatmeal help to solubilize dirt, oil and sebaceous secretions. Provides skin relief and protection for insect bites and rashes caused by poison ivy and similar plants.
Tea Tree Oil: Derived from the leaves of the tea tree, this medicinal oil is known to treat topical skin infections such as: fungal, lice, ringworm, and other dermatological issues. It's antimicrobial and antifungal properties make it a popular ingredient used in many natural cosmetic properties. Tea tree oil has a very distinct smell, like turpentine.
Neem Oil: Neem Oil is a vegetable oil derived from the Indian subcontinent's Neem Tree's fruits and seeds. Its medicinal properties have been credited to include being: Antifungal, antihistamine, insecticide, and antiseptic. And, Neem is also rich in Omega-3 (alpha-linolenic), Omega-6 (linoleic) and Omega-9 (oleic) fatty acids. Neem is used in many pet care products for the purpose of treating: ringworm and eczema, skin diseases, inflammations, and as a topical pesticide
Aloe Vera Gel: Provides soothing relief for inflammation, sores, dandruff, wound healing, scaly, dry & itchy skin, sunburn, and other related issues. Can be used as an insect repellant and as an antiseptic. May also help with psoriasis.
Chamomile: Helps to calm irritated skin, sores, and other irritations. Aids in healing wounds. Studies have shown it may be effective against eczema. When consumed, chamomile is also beneficial for aiding an upset stomach and promoting healthy sleep.
Lemon Grass Oil: This essential oil has been known to provide a multitude of benefits: antimicrobial, antidepressant, astringent, deodorant, fungicidal, and insecticidal -amongst other things. Lemon grass is commonly used in teas and foods, as well as in cosmetic products. It's believed to help reduce pain and inflammation, help with headaches, and even fight depression. This oil also has been shown to be an inhibitor of bacterial and fungal growth, therefore helping to treat skin diseases and foul odors.
Sage Oil: An essential oil extracted by distillation from sage leaves, thought to have a variety of medicinal properties; antifungal, antimicrobial, anti-inflammatory, and antioxidant, amongst other benefits. Sage is best known for its antioxidant properties (act against the oxidants or free radicals in the body that cause aging) and is used in many cosmetic products for anti-aging, wrinkles, sagging skin, and skin treatment.
Witch Hazel: The medicinal oils from the witch hazel plant leaves and bark are considered to have a multitude of natural benefits, including: anti-itching, anti-inflammation, to help with insect bites, and can also help to treat minor skin irritations, bruises and burns. Its antioxidant rich properties may also help with sunburns and reduce aging from prolonged sun exposure.
Paraben-Free: Parabens have been found to mimic estrogen in the body- and when levels are disrupted, a link has developed with breast cancer & reproductive issues. All Richard's Organics formulas are Paraben-Free, to promote the safety, well-being and health of your pet.
Spot–on-Safe: Will not remove topical spot-on flea & tick treatments.
Dye Free   

DIRECTIONS

Spray well before each use. Spray directly on skin irritations, thoroughly wetting skin. May be re-applied several times a day. Do not hesitate to contact veterinarian if irritations persist.

INGREDIENTS

Purified Water, Witch Hazel, Glycerin, Tea Tree Oil, DMDM Hydantoin, Natural Colloidal Oatmeal, Neem Oil, Chamomile Oil, Cranesbill Extract, Pennyroyal Extract, Calendula Extract, Yarrow Extract, Echinacea Extract, Clove Oil, Sage Oil, Lemon Grass Oil, Aloe Vera.