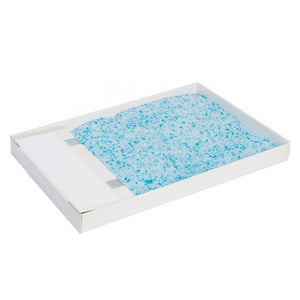 The ScoopFree disposable litter tray is the reason you can leave ScoopFree self-cleaning litter boxes alone for weeks at a time. With disposable trays, you don't have to see, touch, or smell messy waste. Simply replace the disposable tray every few weeks, and your ScoopFree litter box is just like new. Each tray is pre-filled with Premium Blue Crystals litter for unbeatable odor control that's 5 times more effective than regular clay and clumping litters. Low-tracking and odor-reducing crystal litter keeps your home litter-free and smelling great.
Tray Replacement Chart
| | | | | |
| --- | --- | --- | --- | --- |
| Number of Cats | Each Tray Lasts | Trays Per Month | 3-Pack Subscription Frequency | 6-Pack Subscription Frequency |
| 1 | 20-30 days | 1+ | Ship every 2-3 months | Ship every 4-6 months |
| 2 | 10-15 days | 2+ | Ship every 1-2 months | Ship every 2-4 months |
| 3+ | 7-10 days | 3+ | Ship every month | Ship every 1-2 months |
Features
Premium Blue Crystal Litter reduces odor 5 times better than clay and clumping litter
Disposable tray for hands-off convenience
Covered waste trap locks in odor and leaves litter box smelling clean and fresh
Uses 5-10x less litter than clay or clumping litter
Low-tracking crystals don't stick to your cat's feet
99% dust free
The tray's lining creates a powerful extra barrier to help protect against leakage
Absorbs urine on contact and dries solid waste to reduce odor
Each tray weighs only 6.5 pounds (including 4.5 pounds of litter)
Conveniently stack & store trays
Compatible with:

ScoopFree Original Self-Cleaning Litter Box (PAL00-14242)
ScoopFree Ultra Self-Cleaning Litter Box (PAL00-14243)
ScoopFree Slide Litter Box (PAC00-14240)
Best Use Tips
Your cat's age, health, and diet also affect her waste. You might need to replace the litter tray more often if your cat:

Is under 6 months old
Is over 10 years old
Has health problems
Eats cat food high in crude fiber, ash, and byproducts

Never add litter to your ScoopFree Litter Box or use another brand or type of litter. The crystal Litter in the disposable litter tray is formulated specially for ScoopFree litter boxes.
ScoopFree litter trays can be used by themselves as portable, disposable litter boxes when you're on the road with your cat. Manually scoop the waste under the waste trap flap or replace the tray when needed. Mix the litter daily to reduce odors.