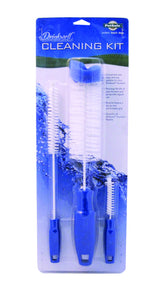 The Drinkwell Cleaning Kit is a 3-brush kit that provides a convenient and easy way to keep your Drinkwell fountain clean! The big brush has a soft sponge on top to easily clean the bowl and large parts of the fountain, plus it features bristles on the side to scrape away accumulated debris. The medium-sized brush is good for cleaning just about any part of the fountain. The tiny brush fits small nooks and crannies such as the filter housing and pump. The bristles on these brushes are tough enough to clear away the gunk from everyday use yet won't scratch the fountain material.
Features
Includes 3 brushes
Plastic molded grips
Plastic wrapped stainless steel shafts to prevent rusting
Flexible handles for corners & round bowls
Large brush features flared sponge tip for deep cleaning
Tiny brush cleans hard-to-reach places
Compatible with all Drinkwell fountains
More Information
How Do I Clean My Fountain?
Unplug the fountain.
Dump the water.
Disassemble the fountain.
The fountain is dishwasher safe except for the motor and cord. Either wash in the top rack of your dishwasher or hand-wash these parts. If your dishwasher runs too hot, we recommend hand-washing. When hand-washing, use a bottle brush, aquarium brush, soft sponge, or brushes included in the Fountain Cleaning Kit and dish soap. (Please note: if you have the Avalon or Pagoda fountains, the filter housing is hand wash only. It is not dishwasher safe.)
Remove the motor from the fountain.
Lift the impeller (looks like a small white propeller) out of the motor. There may be a faceplate cover over the impeller than can be pulled up with a coin or fingernail. Wash the impeller in soapy water, removing hair and other gunk that has collected around it.
Pour soapy water inside the motor cavity and clean with a small round brush like the one found in the Fountain Cleaning Kit. A cotton swab or small toothbrush might work too, or anything that can reach all the way inside of the cavity.
Rinse all parts well before returning to the fountain.
Re-assemble fountain, replacing the filter and pre-filter as needed.
Place the fountain where desired. Fill with water. Re-plug in fountain.