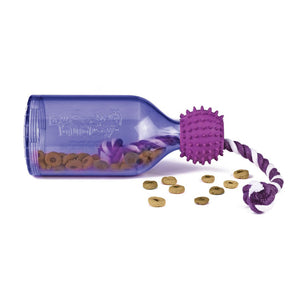 Description
The Busy Buddy Tug-A-Jug rewards and challenges your dog at the same time. The unique design appeals to all five senses to encourage dogs to play; dogs can see, smell, and hear the treats while moving the Tug-A-Jug around to receive a tasty reward. Use it to regulate meals, play games, or teach training commands.
Features
Patented toy design randomly dispenses treats
Holds an entire meal
Durable plastic jug holds up to strong chewing
Braided rope for tugging
Puzzle toy prevents boredom
More Information
To use, twist off the bottom lid of the Tug-A-Jug. Load with treats or kibble, and then replace the lid. As dogs play with the Tug-A-Jug, treats will randomly come out through the opening at the top of the jug. The rope acts as a barrier to meter the amount of food that is dispensed.