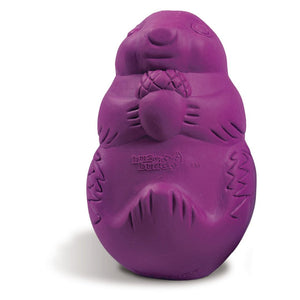 The Busy Buddy Squirrel Dude toy is durable for tough chewers, with a funky bounce to keep dogs playing longer. The patented Treat Meter® chamber holds a variety of treat options, including dry kibble, treats, cheese, and peanut butter. Put peanut butter or treats inside the toy and freeze it for even more fun.
Features
Great for the toughest chewers
Patented Treat Meter randomly dispenses treats
Dishwasher safe, top rack only
More Information
Load the toy with your dog's favorite treats or kibble. If you would like treats to come out faster, you can trim the Treat Meter prongs. Once the prongs are cut, there's no going back, so we recommend trimming only a little at a time and then testing.