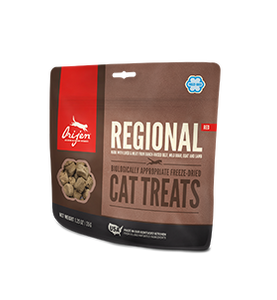 BIOLOGICALLY APPROPRIATE CAT TREATS
MADE WITH LIVER & MEAT FROM RANCH-RAISED BEEF, WILD BOAR, GOAT & GRASS-FED LAMB
THIS DELICIOUS MIX OF NOURISHING, WHOLESOME RED MEATS BLEND TOGETHER TO CREATE A SAVOURY AND HEALTHY REWARD THAT YOUR CAT WILL LOVE.
Made with 100% quality animal ingredients (with only natural preservatives) that are delivered to our kitchen raw.
Nourishing ratios of meat and cartilage or bone provide a natural source of nutrients, with the delicious palatability and nutrition of organs for added flavour that your cat will love.
Gently freeze-dried in our own kitchen, without synthetic preservatives, to lock in natural, delicious goodness for a pure and tasty treat.
FREEZE-DRYING — THE GOLD STANDARD OF FOOD PRESERVATION
ORIJEN Regional Red treats are gently freeze-dried, retaining all of the natural goodness of our authentic ingredients without the addition of synthetic preservatives. Our freeze-dry kitchen is equipped with nitrogen tunnels which flash-freeze ingredients at extremely low temperatures (-60°F), locking in their vitalizing nutrients.
An 18-hour freeze-drying process gently converts the water frozen in the ingredients into ice vapour, without creating any liquid. This means only water is removed from our ingredients, leaving behind all of their goodness in a concentrated form, creating a nourishing taste experience your cat will love.
INGREDIENTS WE LOVE FROM PEOPLE WE TRUST
Beef liver, lamb liver, wild boar liver, goat, wild boar, lamb, goat liver, beef, goat kidney, goat tripe, beef kidney, beef tripe, lamb kidney, lamb tripe, mixed tocopherols (preservative).
RICH IN MEAT & PROTEIN
Made with 100% quality animal ingredients with natural preservatives, ORIJEN treats are a protein-rich, Biologically Appropriate reward.
Analytical Constituents
| | |
| --- | --- |
| Crude protein | 40 % |
| Fat content | 40 % |
| Crude fibre | 1 % |
| Moisture | 2% |