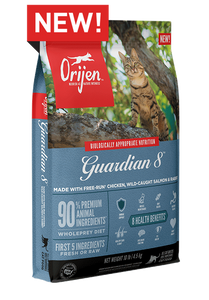 ORIJEN Guardian 8 is a nourishing food specially formulated to address 8 common cat ailments through quality ingredients. Because of the abundance of fresh and raw WholePrey animal ingredients in this diet, less supplementation is needed to support your cat's health for a lifetime. With 90%* premium animal ingredients, and 2/3 of those being fresh and raw, Guardian 8 contains nutritious ingredients that help support your cat's overall health with 8 benefits. These benefits include Immune support, Digestive health support, Healthy skin & coat support, Muscle maintenance, Heart health, Joint health, Brain & cognitive function, and Eye health.
8 BENEFITS FOR OVERALL HEALTH
Immune Support |

 

Supports immune function with EPA and DHA from wild-caught fish, and antioxidant nutrients from ingredients including fruit and vegetables.
Digestive Health |

 

Helps support digestion with prebiotics such as dried chicory root & fiber from fruits and vegetables.
Healthy Skin & Coat |

 

Supports a shiny coat and healthy skin with Omega-3-rich oils from wild-caught pollock.
Heart Health |

 

Helps support heart health with naturally-occurring Taurine found in animal protein sources like poultry, fish and eggs.
Muscle Maintenance |

 

Formulated with 90% animal ingredients* such as chicken, salmon and turkey to help support muscle maintenance in your cat.
Joint Health |

 

Supports joint health for adult and senior cats with oil rich in Omega-3 fatty acids from wild-caught pollock.
Aids Brain Function |

 

Helps support cognitive function with oil rich in DHA and EPA from wild-caught pollock, and naturally-occurring Arginine from poultry and fish.
Eye Health |

 

Supports retinal function with naturally-occurring Taurine and Vitamin A from animal sources such as chicken and turkey liver.