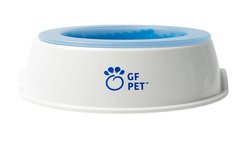 THE GF PET® ICE-BOWL IS DESIGNED TO KEEP YOUR PETS' WATER COOL FOR HOURS.
INSTRUCTIONS:
PLACE INSERT IN THE FREEZER AND PUT IT ON THE BASE ONCE READY. FILL IT WITH WATER FOR YOUR PETS' COMFORT.
DO NOT LEAVE YOUR PET UNATTENDED IF YOUR DOG IS PRONE TO CHEW.
PRODUCT DETAILS:
• NON-TOXIC COOLING GEL
• ANTI-SKIDS
• 16OZ CAPACITY
• SHELL: 100% MELAMINE. PLASTIC INSERT FILLED WITH NON-TOXIC COOLING GEL.