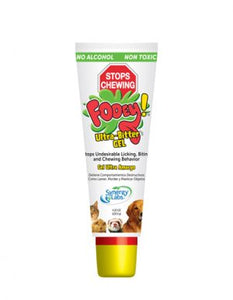 BITTER TRAINING AID GEL
Fooey! Gel is so disgustingly bitter, we actually have a registered trademark to say it's "the most bitter stuff on earth!™" When used in conjunction with recommended training methods, Fooey! stops dangerous and destructive behaviors such as: unwanted chewing, licking, biting, ingesting and more. Our new gel formula and sponge-tip applicator conveniently allows the pet parent to apply product with less-mess and more accuracy. Great for doors, crown molding, furniture legs, dangerous plants – and even on the pet (hot spots & surgical wounds).
SAFE FOR THE SKIN
Fooey! is pH balanced and safe to use even on pet's skin if needed, to prevent damage to surgical sutures, and to discourage gnawing on hot spots and inflamed areas. Fooey! is the more fashionable option over typical head cones – which we all know, dogs just hate. Make sure sponge-tip applicator is new, clean and sanitary, if applying directly to a wound or surgical sutures to avoid infection.
WHY FOOEY!?
Fooey! offers numerous benefits to you, your home, and your pet. Here's just a few:
Alcohol-Free. Safe to Use on the Pet.

Neutral pH.

Non-Flammable. Non-Acidic. Non-Caustic.

Fragrance-Free.

Color & Dye Free. Won't Stain.

10 x's More Powerful Formula than Competitive Training Aids.

Affordable Way to Stop Costly Damages!

Available in Both Spray & Gel (with Sponge-Tip Applicator) Formulas.
Glide Fooey! Gel on anything – and you'll instantly transform it into an utterly distasteful object. Works on most dogs, cats, horses, ferrets, rabbits and birds.
INGREDIENTS
Purified Water, Propylene Glycol, All Natural Bitter Principles & Extracts, Hydroxyethyl Cellulose, Preservatives